Lee Hart's 1802 "Membership Card" development
---
Last updated Mar 14 2014. Edited by Herb Johnson, (c) Herb Johnson, except for content written by Lee Hart and others. Contact Herb at www.retrotechnology.com, an email address is on that page..
Introduction
This page is about the design process of Lee Hart's Cosmac RCA 1802 microprocessor "membership card", from early discussions in cosmacelf in 2005, to his production of prototypes, to his Rev A prototypes of 2009; Rev B kits in 2010; Rev C kits in 2011; and Rev D kits in 2012. Current production is described and priced on the "membership card" home page. That home page also has links to software and hardware, notes and documents, and more resources.
On this Web page is a summary history of Lee Hart and his 1802 work, leading to the Membership Card, is below. Following that is an index of links to design discussions, documents, and developments; followed by prototypes and products by revision. The first half of the index is to seperate text and HTML documents elsewhere; the second half of that index, on prototypes and kits, indexes into information on the rest of this Web page.
There is some overlap between the "home page" and this design process Web page; this page will have mostly older material, the home page more recent material. There will also be a "current revision" or "current kit" Web page, as noted on both pages. As of July 2012, it's the Rev D kit Web page.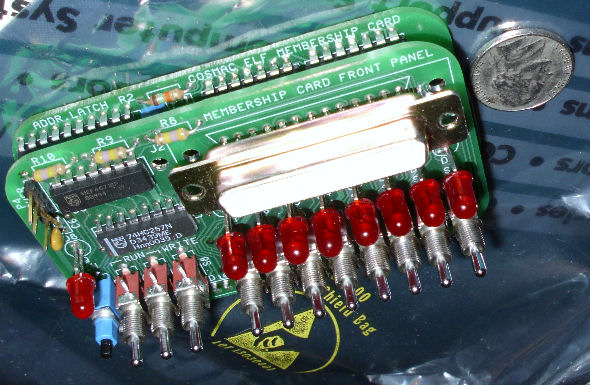 Here's the assembled Rev A 1802 Membership Card, with a nickel to size it up.
A description of the prototype Rev A kit, construction by Herb Johnson and notes from Lee Hart, is on this linked Web page. See the Rev B the Rev C or the Rev Dsections below for their Web pages, manuals and schematics.
The current status of the 1802 Membership card, is on the Membership home page. Lee Hart can be contacted for details, see that Web page.My home page for my "retrotechnology" activities is at this Web link. Wander from there to other old computing interests.
- Herb Johnson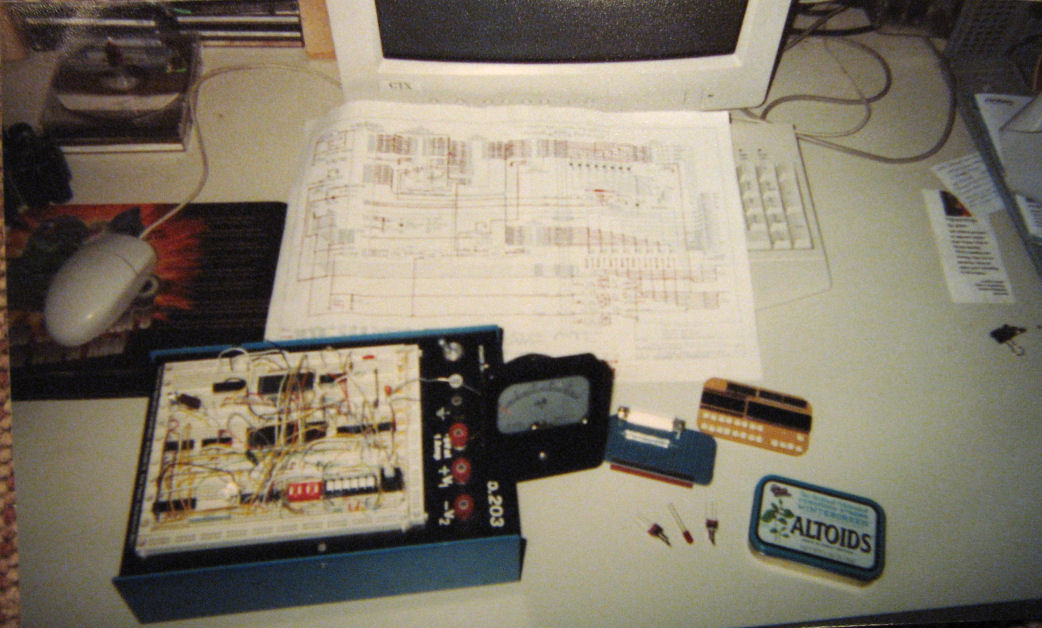 A breadboard of the Membership Card circuits. Ode to Eight Bits, by Lee Hart
RCA developed the COSMAC CMOS product line in the mid-1970's, including the 1802 CMOS microprocesor and other support chips. In 1982, engineer Lee Hart designed and built an 1802 single board computer called BASYS. Lee Hart and I have been friends and colleagues since that time. Since the 21st century, he's become known for at least two things: electric cars, and the low-low-power COSMAC CMOS microprocessor from RCA, the 1802. Go to my Lee Hart Web page to look at some of those activities.
In May 2008, I found out that Lee Hart wanted to resurrect his old reduced FORTH for that board, which he called "8th". When I checked his activities, I found he was chatting back in 2005-06, about some kind of 1802 product in the Yahoo! 1802 and cosmacelf discussion group, with some of his 1802 colleagues from Dave Ruske's Web site Cosmac Elf. Lee created then, a small-card design for 1802 processor which he called the "membership card". It's built to about the size of an Altoids can. In April 2006 he had a prototype for the two stacked circuit boards needed; he completed the PC board layout by the fall of 2006.
But the design languished until 2009, when Lee was encourged to pick it up again. He produced a few boards and built a prototype. With my help and others, he revived his old "8th" language software, and discussed his work again with me and in cosmacelf. A list of board features is below. Here's a link to a early parts list, some operating instructions, and some initial design discussions.
In Oct 2009, Lee designed some prototype circuit boards for a small test run. By Nov, Lee produced a handful of circuit boards and distributed these to a few people. I and a few others assembled these cards and wrote about them: links are below. Issues were found with this design, and resolved during year 2010.
Meanwhile, by Jan 2010, with the help of cosmacelf members the 8th code was recovered from Lee's last paper listing.Details andlinks to source for 8th are on another Web page. Additionally, I (Herb Johnson) decided to look for a freely available 1802 cross assembler, in source form, that was close to the commercial (Avocet) cross assembler Lee used for his 1802 assembly, under Windows/MS-DOS. I found the A18 cross assembler and with the author's approval I've made that available: links are below.
By the summer of 2010, Lee was ready for a "Rev B" version of the Membership Card. The 1802 Membership card Rev B kit, is described on this linked Web page. The Rev B run was produced and sold from Dec 2010 through July 2011.
In early 2011, Lee made a few small changes to the Rev B layout, and added a third board as a front panel cover. He announced this cover in mid-July 2011, as he prepared to provide a Rev C kit and board set. The 1802 Membership card Rev C kit, is described on this linked Web page.
During 2012, Lee considered expansions for the Membership card, and discussed them with customers. The Rev D kit and design, released in July 2012, provides for stacking two CPU boards for RAM and ROM; expanding the output port to 8 lines and adding external power to the DB-25 connector; more address options for RAM/ROM and for I/O. The 1802 Membership card Rev D kit, is described on this linked Web page.
The current status of the 1802 Membership card is on the Membership home page.
This section of this Web page, is an index into documents and Web pages which cover the whole development of the Membership Card, from early discussions and considerations to the latest kit. The early design process was discussed in the Yahoo! cosmacelf discussion group.. I've exerpted Lee Hart's posts at that time (with his permission) edited them into what amounts to his early design documents and discussions. This page indexes into that edited material in the links in the first few index sections below. Index sections about the prototypes and kits, link into details on this Web page which follows the index. Those details also link into many of the same documents. A shorter version of kit development information is also on the Membership Board home page.
The Membership Card Manifesto