If you don't see a part here, look for the system it works with, or a Web page which lists a specfic kind of part, by checking the links and categories on my my Mac home page. Or describe to me the part and the system and ask for price and availability. But a little searching on my Web site may find it.
Floppy drives and diskettes
please include your Mac system model and floppy drive capacity (800K, 1.4M, etc) when ordering; and any other considerations, as I describe below. YOu can read information below to look for the floppy drive model number. The number on the metal case around the drive is for the bracket or carrier, not the drive. External floppy drives come in different looking cases, those cases are in various cosmetic conditions. Some customers care about these considerations, and some of these are technical and will effect your use of what you buy. I sell parts - these are described as parts.
I have some UNUSED parts, check my unused parts list for specifics. All used floppy drives sold will be cleaned, lubricated, and tested. This is required due to their age. Even a drive rarely used, will get gummed up from the age of lubricant plus the years of dust. Prices for these drives reflect the time and effort I've put in.
As of 2021, some information on Apple floppy drives is on this Web page, a private Web site. Yet another link on the FIRST 3.5" drive is at this private page .
Can I hook up a Mac floppy drive to a Windows computer? No...and it won't do you much good if you could. Read this tech note of mine for details.
I want a 1.4M floppy drive for my Mac Plus, or SE, or 128K, or 512K. Sorry, but adding a 1.4M floppy drive to those "classic Mac" models, won't make it read or format 1.4M floppy disks. There are some SE models which do support 1.4M drives. Please be sure to order the appropriate floppy drive for your vintage Mac.
The 1.4Mb (2.0MB) floppy drive comes in several different models, and external or internal. But the physical floppy drive itself is one of two general mechanisms: auto-inject (older) and manual-inject (newer). Apple has part numbers for these which may not appear on the drive. But the drives usually have brand and brand model numbers. Many are labled "2MB" as that is the UNformatted capacity of the diskette. Approximate shipping weight 1 or 2 lbs per model. The older drives cost more, as they are harder to find in good condition, and require more work to test and clean.
There's also metal brackets or carriers or plastic sleds which hold the drive to some frame. These are sold separately, follow the link for details.
"black door" 1.4M manual-inject floppy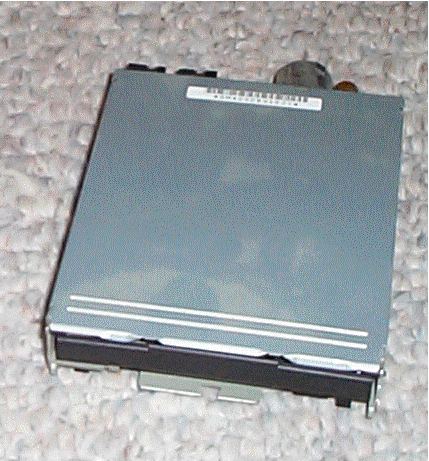 Apple part 661-0121 or 661-1390, 1.4Mb (2.0MB) "black door" manual-inject floppy was made by Sony or Mitsubishi or Panasonic, such as this image of a 1.4Mb Mitsubishi MF355 drive. These have a black-painted metal horizontal "door" at the front of the drive, where the diskette is inserted. It's typically used on PowerMacs, and in later 68K models of Performa and Quadras. Specify your Mac model when ordering a replacement.
To my knowledge, all these brands and models of this general configuration, operate the same and are interchangable. If you want a particular brand and model, some are scarce to me and I'll have to charge more.
1.4Mb (2.0MB) "black door" floppy drive, I choose brand and model from list below. Used, cleaned and tested, $35 plus shipping.
Mitsubishi MF355-592MA, $39 plus shipping
Sony MPF52A, $45 plus shipping
Panasonic JU-268A016C or Panasonic JU-268A026C, scarce, $49 plus shipping.
Other brands and models, ask if available and price.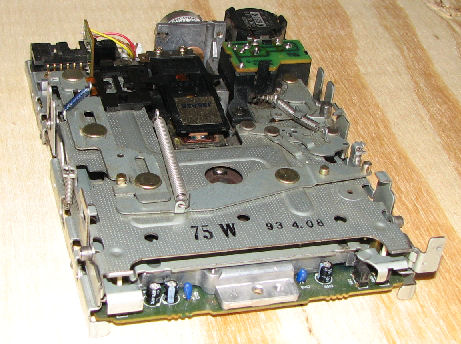 The Apple part 661-0474, 1.4Mb (2.0MB)auto-inject drive is a Sony model MP-F75W-21G or MFD-75W-01G as in this photo, or variations of those model names. The identifying F75W blue lable is under the drive, and on one side, as in this photo. The label says "2MB" because the unformatted diskette capacity is 2 megabytes. The Mac formatted capacity is 1.4MB.
This drive was used from the SE FDHD and SE/30, through the Mac II's, early Performas and Quadras, and other 68030 and 68040 processor based systems. It does not have a "door" on the front, and it looks like the older 800K floppy drive. This drive was also used in Apple's external 1.4M "FDHD" floppy drives. If this will be a replacement drive, specify your Mac model when ordering.
older auto-eject 1.4Mb (2.0MB)floppy drive, older Sony "75W" drives. Used, cleaned lubricated and tested, $89 plus shipping.

An external floppy drive, is simply an internal floppy drive in an external case. We show more external cases (by Apple with 800K drives) in the 800K external drive section.
For the 1.4M floppy drives, the external drive model is G7287, "Apple Superdrive" or "Apple FDHD", (photo on left) in a "manual eject" case with ridges from front to back, a manual eject button and LED. The same manual-eject case was relabled for use with 800K floppy drives. The 800K "auto eject drive" case was a flat case with no eject button or LED. Apple apparently did not offer a 1.4M auto-eject cased drive. I offer to put a 1.4M floppy drive, in an 800K external case, manual or auto-eject. Let me know if that is satisfactory.
About use of the manual-eject external floppy drive. On later-model Macs, one can push the floppy-drive case button and the diskette will eject. It's not a mechanical eject button - it's an electrical switch, so the Mac itself has to "respond" not the drive. But on the earliest "compact Macs", I'm not sure they can respond to the "manual eject" ext. floppy push-button. The Mac Plus and earlier do not. The SE may not, the SE/30 may, the Classic and Classic II may. Find out before you order.
Case prices depend on model of case and cosmetic condition. Cases in better cosmetic condition, as in a light grey/platinum color, cost more; the manual-eject case costs more. The photo on the left shows two manual-eject cases. One is faded to yellow and shows a grey patch where a lable was removed and so the lable prevented fading. We may have some in that condition at a lower price. The other is light grey and relatively unfaded. The photo on the right shows other ridged manual-eject cases. Again, we can put 800K drives or 1.4M drives in these cases. For more information on cosmetic condition, consult "cosmetic condition" information on my collectables Web page.
We price external 1.4M drives at the price of the 1.4M floppy drive, plus a price for the case and installation. All floppy drives are cleaned and lubricated and tested. Case prices depend on model of case and cosmetic condition. Cases in better cosmetic condition, or "superdrive" cases, or in light grey/platinum color - may be scarce or unavailable and cost more. Consult "cosmetic condition" information on my collectables Web page. Shipping wt. 5 lbs.

Mac Laptop drives, 1.44MB (not USB)
For floppy drives for Mac laptops, check my Mac Laptops accessory section.
The BLACK-text labled MFD-51W-10 drive often appears inside Mac Plus or Mac 512KE computers; it's used with a red-striped cable. (The stripe marks the cable for the pin 1 wire.) The cable is usually marked "590-0167". The RED-text labled MFD-51W-03 drive often appears inside external 800K Apple floppy drives (i'm unsure how often BLACK-text drives appear). If used inside a Mac Plus or 512KE, it's used with a yellow-striped cable. (I didn't check Mac II 800K drives.) The yellow cable may not be marked with a part-number; Apple documentation identifies the number as 590-0437. In a few cases a red-striped cable has a paper lable "590-0437". Actual measurements of cables by me in 2021, tells me yellow / 590-0437 cables have pins 9 and 20 NOT connected; red / 590-0167 cables have ALL twenty pins connected.
I've not determined if these two models of 800K drives operate differently. In my experience the 800K drives appear to be interchangable. But Apple technical documentation recommends to associate drives and cables as I've described. Here's some notes on the subject.