Terminals and X-terminals
Some of these have been moved to our DEC and other equipment page.
Texas Micro or Radisys single card Pentium board. Texas Micro P54C 946 F23463C, may also be Radisys EPC-2102 SBC. Single card PCI/ISA board with ultraSCSI controller, four 72-pin SIMMS, Socket 7 Pentium 133MHz processor, ISA and floppy, serial and parallel ports. Also have passive motherboard with ISA and PCI slots. Disassembled after running OK. Modest price for these two cards, ask. Radisys Web site has online manual for their model.

Here's some Z80 and other single-board computers I've found, restored, or otherwise accumulated.
Baby Blue Z80 card for IBM PC
I have two sets of Baby Blue Z80 card docs and disks.
First set from Microlog: The Baby Blue files I have total about 100K. They appear to be from 1983 and include references to Version 2 and version 1. The lable on my copied disk says "Ver 2.04K". I'd charge $2 plus shipping for this disks if you buy this with the manuals. The document is a copy of the Microlog Baby Blue CPU Plus User's Manual, from 1983. Copied as two half-sized pages per sheet, there are 48 sheets. There is also a manual for BSTAM which is some kind of communications program, of 9 sheets. We'd charge $12 to copy this pair of manuals.
second set from Xedex: I also have an original Baby Blue document, as above but from Xedex Corp and labled Version 1.2. It's a different manual with illustrations of a Baby Blue Xedex card, with a Z80 near the top edge, a DIP switch near but not above the edge connector, and with 9 RAM chips on the vertical edge farthest from the ISA connector (arranged as 6 + 3 chips). this manual is 56 half sized pages so we'd charge for it as 28 sheets copied two pages per sheet. So this would cost $6 for a copy. It refers to similar programs as the Microlog manual. There are two 5.25 inch disks with this "original" manual. I'd charge $2 for a copy of these onto a 3.5" diskette, presuming I can read those disks.
Jack Rubin looked at my docs and said this; "> I finally got my Microlog card working - it only runs in an IBM 5150; it might work with a 5160 but the card slots are too close together physically to allow the board to seat correctly.... The Microlog manual, though less "slick" is newer and more complete. The most significant difference I noted was that the Xedex manual wants switch 8 ON (enable parity checking for onboard RAM) and Microlog wants it OFF. It's very hard to tell from the copy I have (maybe your original is a little better) but the Xedex board _seems_ to have parity RAM installed while my Microlog not only lacks the parity RAM chip but doesn't even have the socket installed. Needless to say, I turned the switch off and the board worked fine. "
As of Aug 2009 I have SIX Baby Blue Xedex cards, untested, sold AS IS. Cards as pictured, or one with a pale blue circuit board but identical layout and chipset. DRAM chips removed on all of them. All TTL type logic chips (type is labled on each board) except one delay line chip. Some have some socketed chips. Cosmetically, they look OK. Ask me about a price on these. In addition, I have ONE card which is an enhanced Baby Blue called "Big Blue" from QuCoSinc or Quality Computer Services Inc of NJ. The back has a daughter card.
RF amplifiers, radios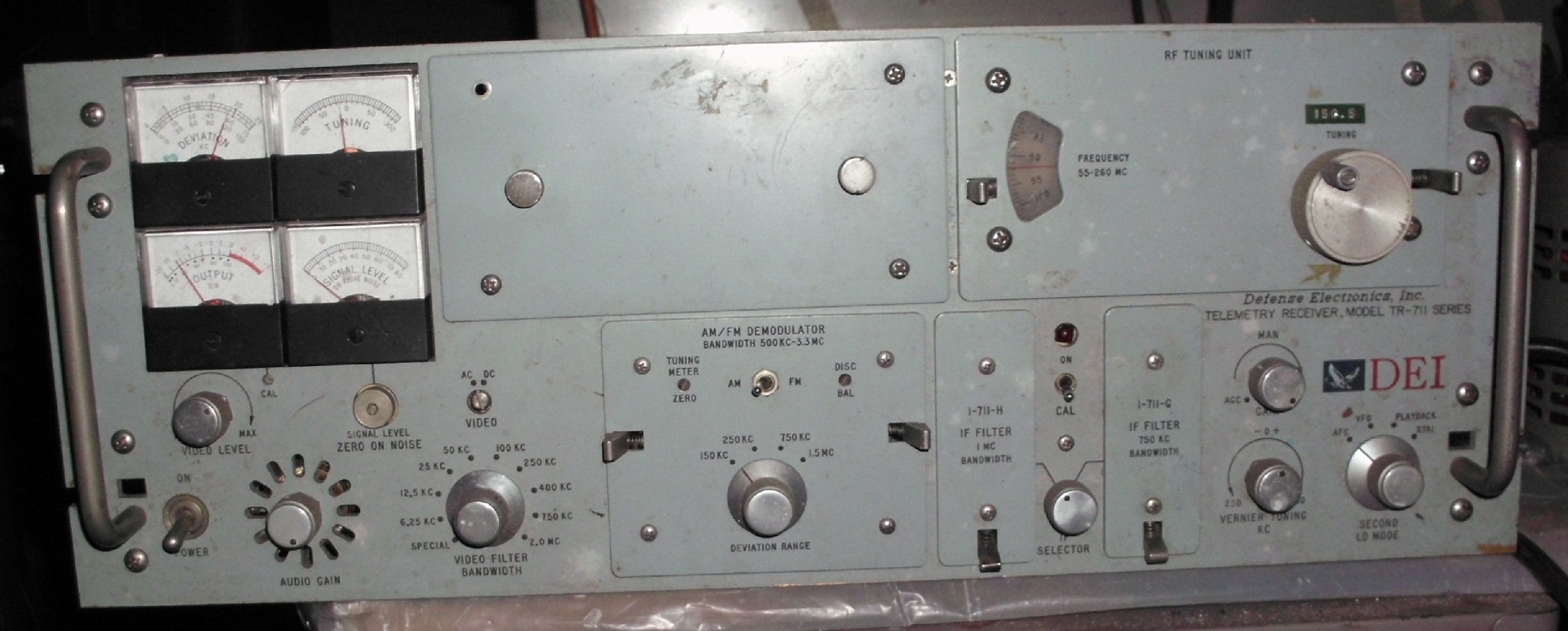 DEI TR-711 50-200MHZ AM/FM defense receiver
(Defense Electronics Inc) DEI model TR-711 receiver. Weighs about 50 lbs, rack-mountable. It has some nice features like bandwidth controls, and 2 switchable plug in IF filters, AM and FM demodulators, triple conversion. Here's the catalog photo of a full TR-711 receiver. My unit has a RF plugin for 50-200MHz, and receives local commercial FM stations. No oscilloscope plug-in. Here's the back of the unit and here's a closeup of the jacks there.
Here's the specific plug ins I have.
No CRT display plug in (same size as RF tuner). Here's the chassis connector for that plugin.
T-711-J RF tuner 55-260MHz
I-711-H IF plugin #1 1MHz
I-711-G IF plugin #2 750kHz
D-711-C AM/FM demodulator switchable 150, 250, 7500, 1500kHz bandwidth
These units were made around 1970. From my first-floor, the unit receives a few local FM stations with a simple wire antenna. Runs on 110V AC 60Hz of course. All transistor, not tubes, I'm told it was one of the first nontube products of that company. Of the four meters, the left two (output and deviation) don't move their needles. I have a pair of modern meters (untested) of the same size which could be sold.
Here's a GENERAL description of what DEI offered with the TR-711, from a several page product description I have. These items as radios or plug-ins sometimes appear on eBay, but they seem scarce. I've only had a few people in a decade, who have one of these receivers.

plug-in telemetry receiver, solid-state
105-2300MHz RF 10kHz-3.3MHz IF solid state. Plug ins
for one tuning plug-in, two IF filters, one demodulator,
and one SDU. triple conversion, 30MHz, 4.3MHz,
455kHz IFs. rack mount 7" high. Extremely linear AGC response. Video bandwidth 
capable. deviation range meter. Main reciever has 30MHz IF, followed by plug in IF. 
Tuned by VFO or crystal or AFC. Up to 6MHZ bandwidth. 

Tuners: T-711-A 105-155MHz, T-711-B 215-320, T-711-C 285-410, T-711-E 370-408, T-711-F 1435-1540, T-711-H 2200-2300, T-711-J 65-260MHz.

IF: I-711-A, I-711-B, I-711-C, I-711-D, I-711-E, I-711-F, I-711-G, I-711-H, I-711-I, I-711-J. Bandwidths from 10KC for -A to 3.3MHz for -J

AM/FM Demodulators: D-711-A w/ 10, 30, 50kHz, D-711-B w/50 to 750kHz, D-711-C w/500-1500kHz bandwidth.

Phase-locked FM demodulator; L-711-A, L-711-B, or phi-711-A & phi-711-B demodulators long and short loop

other plugins (SDU's): S-711-A spectrum analyzer, P-711-R predetection record, P-711-P playback, S-711-O monitor oscilloscope


data media, tapes, drives
I have two boxes of 8mm tape data cartridges, new, sealed, as follows:
Maxell HS-8/112, rated capacity 2.5GB/5.0GB7 still wrapped and in a box. OR,
KAO 8mm data cartridges #28000, 112m length.
Unused, sealed 240 tapes, most still in their factory boxes of 10 per box. Here and here are images of each tape. These are data grade tapes.
price: $6 per box of ten tapes, plus shipping.
Dual 8mm tape drive, SCSI, in external box two Exabyte 8500 drives in external case with SCSI-2 connectors. Initial tests are that one drive accepts 8MM tapes, the other will reject the same tapes. Cannot test further until SCSI address set to allow use of "good" drive. Looking for offers before I test further.
4mm DAT tape drive, SCSI, in external box. Drive identifies as "Archive Python 01931-xxx 5.56", and has a lable "Conner CTD8000E-S". Has SCSI-1 connectors. Specs say 400Kbytes per second transfer, and 4GB uncompressed storage on DDS-2 120m tape. Drive tested using Win 95 Backup, saved and verified 1.5GB on tape. Make me an offer on this tested drive, with a few tapes included.
Archive EAX6GP-60EP/150EP tape drive. Uses cartridge tapes. Not tested.
IBM 7208-001 8mm tape drive, EXABYTE 8200. external SCSI tape drive with AC supply. Original connectors on back replaced with SCSI-2 type HD50 connectors and cable and terminator. Not working.

more tapes and cartridges
Castlewood ORB 2.2Gb, orb2se00, scsi tape drives external, 2 units
Syquest EZdrive 135, 135Mb cartridge not included. SCSI external drive, untested.
DC2000 data carts, 40 MB, from 3M: 9 cartridges still sealed, in two boxes.
DC6150 cartridge tapes, unused, sealed. 13 tapes.
6" by 4" data cartridges, 1020 foot length, 250MB. 10 cartridges total 9 still sealed, in two boxes. No brand name, dated probably 1992.

Fuses

Amp-trap semiconductor fuses, 100 amps
We acquired these in March 2003. They were apparently purchased in 1975, according to the original boxes they were shipped in from the manufacturer. Almost all are in original packing in original boxes and those in original shipping box from manufacturer. These product are currently available from Ferraz Shawmut, A Web search on that name and the product name (A70p100 or A50p100) will find docs, tech notes, even an application to select among their products. These are almost certainly made of silver ribbon in a sand matrix. Designed to blow quickly at very high currents to protect semiconductors. Contact me to make offer.
quantity about 250: Shawmut Amp-trap A70P100 type 4 semiconductor fuses. Packed in boxes of ten. fast acting fuse, 100 amp, up to 700 volts. Fiberglass package is about 1.5" diameter, 4 3/8 inches end to end. Studs (ferrule) at either end 1" wide, 3/4" long, with 5/16" dia hole. Center to center on holes is 3 5/8". No guarantees on these measurements but they are pretty close.
quantity about 140: Shawmut Amp-trap A50P100 type 4 semiconductor fuses. Packed in boxes of ten. fast acting fuse, 100 amp, up to 500 volts. Fiberglass package is about 1.0" diameter, 3 5/8 inches end to end. Studs (ferrule) at either end 3/4" wide, 3/4" long, with 5/16" dia hole. Center to center on holes is 2 7/8". No guarantees on these measurements but they are pretty close.

High power fuses
About 12 high-power fuses by GE. THOUSANDS OF AMPS, THOUSANDS OF VOLTS. Constructed of silver ribbon (one troy ounce each) in a sand matrix. Weigh about 10 pounds each or so. Old but apparently unused, one is dated 1983. Typical model number and spec: 218A4293P12RB, 4.8KV, 80KA Conversation piece, I suppose, but they also have an ounce of pure silver in them, so that makes them worth a few tens of dollars each. The sand is very high grade also.