VCF-East 2017
---
This Web page last updated May 2 2017.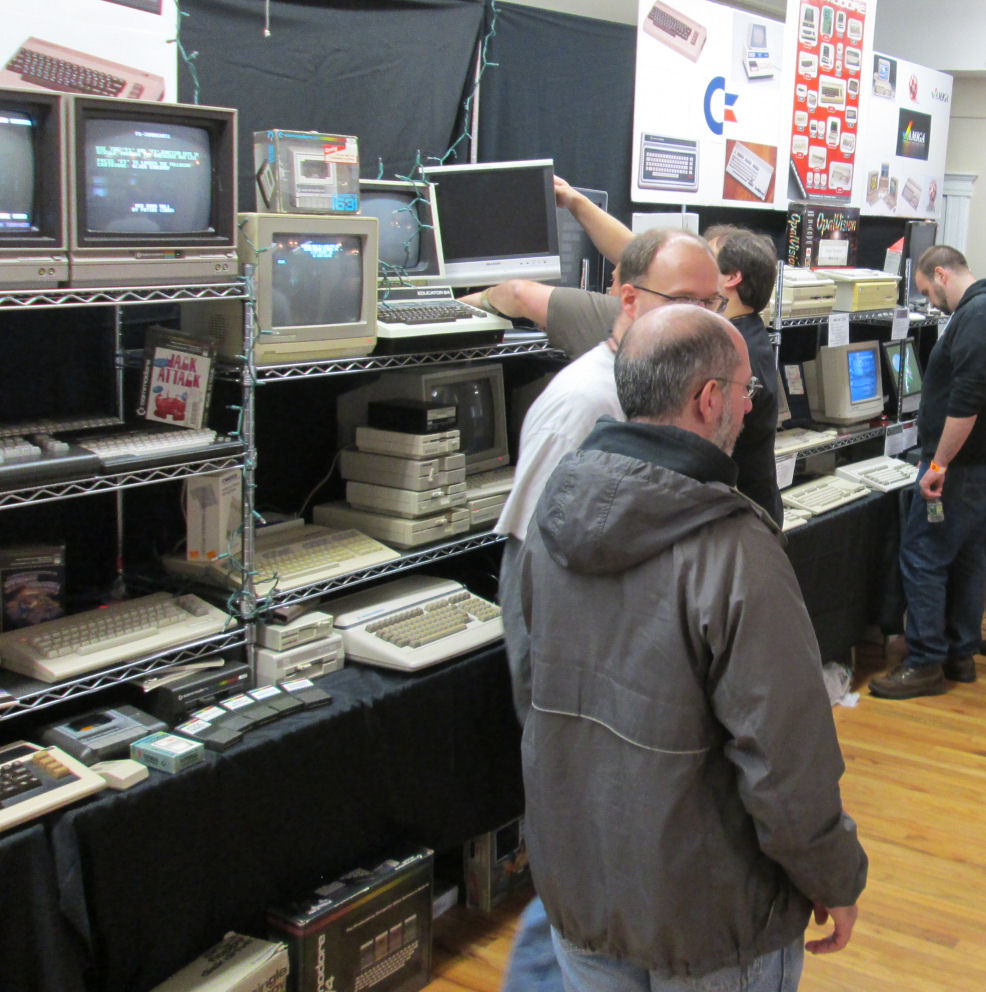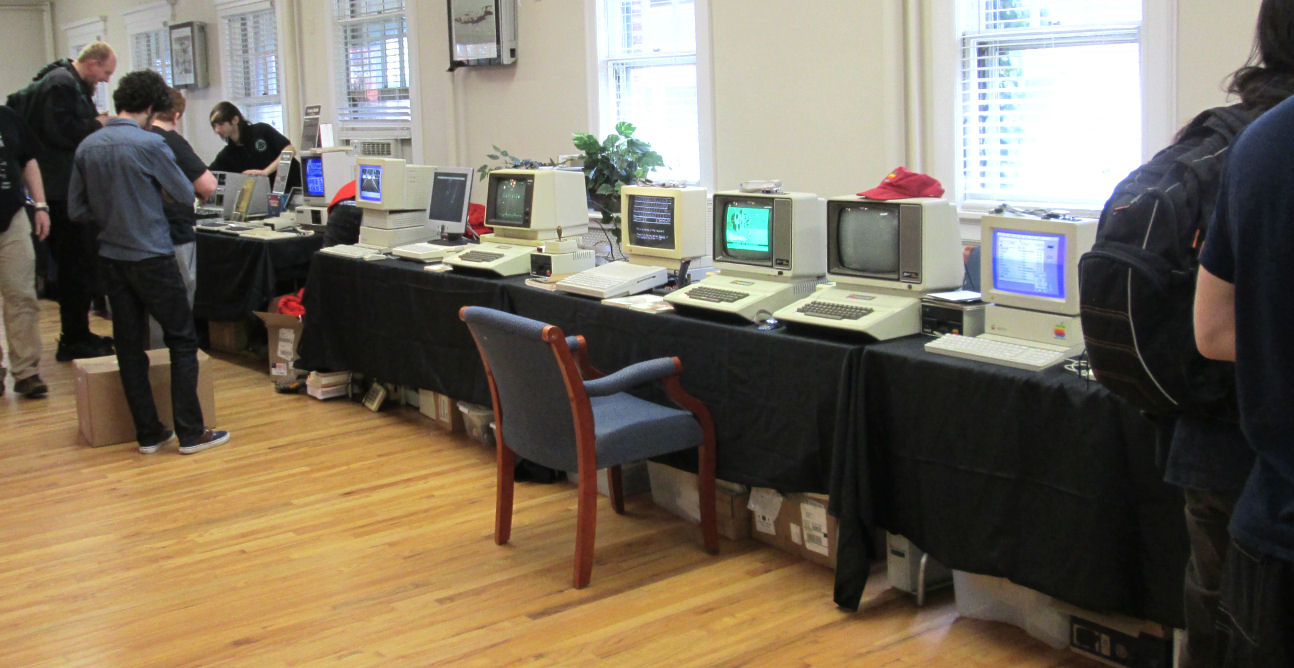 Introduction
working draft of my VCF-East 2017 Web page. These are mostly photos by me and descriptions by me. By no means is this a comprehensive presentation of the event. The event was produced by Vintage Computing Federation Inc and more information is on their Web site.
Lists of exhibits, vendors, talks hear are (c) VCF Inc. Unless stated, all photos are (c) 2017 Herb Johnson and taken by me (Herb). Ask permission, give credit before use; I have higher-resolution and unedited versions of these photos. Let me know you have photos and I'll link to them, I may borrow a few for here with your permission and back-link. - Herb
Of course my "retrotechnology.com" Web site provides general support for the use of old technology, such as the technologies here.

Exhibits
A list of exhibits is at this link, courtesy of VCF Inc.
Apple I / II "AppleDappleDudes"
Commodore "Commodorians"
not shown: Tandy "TRanSistors"
"Commodore 64 Active Assembly Programming"
"Battle Chess" computer chess real-time competition
exhibit "Inside the Enigma"
"Pre-Raster Graphics" exhibit w/PDP-8
- PDP-8, Tektronix vector display
"SCELBI 8B Reproduction" exhibit
"Southwest Technical Products" exhibit
"Silicon Graphics Indy" exhibit and Herb Johnson on-screen
"Going Forth Into the Past" exhibit

"Mechanical Computing" exhibit
photo of mech trainer computers exhibit
CSE logic trainer
- photo inside the logic trainer
- closer inside the logic trainer
- logic trainer uses Motorola MC845 DTL logic from 1971
DigiComp II and Think A Dot
photo of Think A Dot - Joseph Weisbecker's game design
- Think A Dot how-to
Sales Area
A list of sellers is at this link, courtesy of VCF Inc.
some items on consigment
photo of SE/30 for consigment
photo of big boards consigned
Jeff Galinat and S-100 for sale
SGI and Sun systems for sale
One of the Indy systems sold, in test. Is good!
Apple I reman boards for sale
Corsham Technologies, SS-50 & KIM-1 products for sale
Jim Gonzalez — Omni System, DEC and related items for sale

Bob Applegate of Corsham Tech was a good neighbor at my booth at VCF-East. Here's a link to his description of the event.
Herb Johnson's sales area
Here's what you missed, of the items I took to sell.
My setup on Friday: Apple II, S-100, AT&T, COSMAC
20-somethings trying to swipe Apple II screen
Bob Applegate is at the left of the photo.
1802 and Z80 Membership Cards
Early 1802 M/S card brought by Mark Thomas
Close up of the 1802 Membership card
Close up of the Z80 Membership Card

Links to Lee Hart's 1802 and Z80 products:
A solar powered COSMAC 1802 computer
The Rev I 1802 Membership Card
The Z80 Membership Card
construction & talks
A list of presentations is at this link, courtesy of VCF Inc.
photo of Tandy TRS-80 presentation
John Chapman, assembly of XT-IDE and Apple
David Gesswein PDP-8 what-is presentation
SMD surface-mount talk and demo

Tom Perera, Ph.D.: Inside the Enigma The Mother of All Enigma Presentations. Very, very impressive. Among the best vintage computing presentation and effort I've seen in years.

Food
photo of taco from heaven
Friday pizza lunch
Other's photos by site
Mike Loewen
David Riley
Dan Roganti "Ragooman"
vintagecomputing.net

Comments
1802 Membership Card developer Lee Hart wrote: Compared with VCF-MW, not many exhibits seemed to be active. Maybe that's just how you happened to "catch" things when you took the photos?
Herb: Oh, there was no shortage of noisy exhibits. A music synth was running. Calcomp plotter and chain printer were chattering. Most of the computers in operation displayed graphics. But for clarity and my convenience, I took some photos at setup time, with no people around.
---
Contact information:
Herb Johnson
New Jersey, USA

contact the author via email links at this Web page.
Copyright © 2017 Herb Johnson