">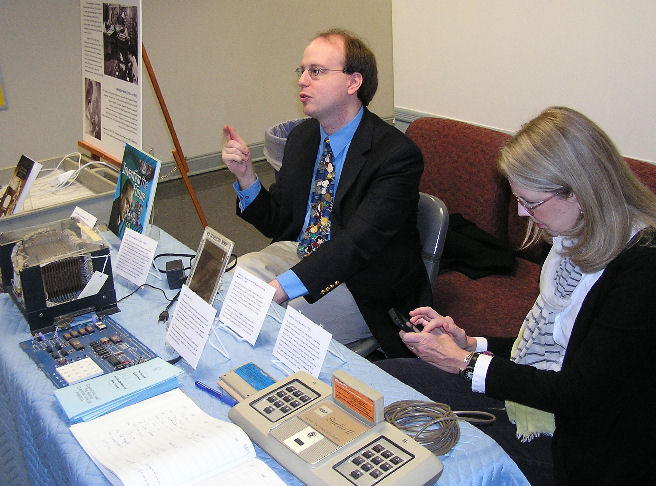 TCNJ's Sarnoff Collection had a table at entrance to MARCH room. TCNJ acquired some of the Sarnoff (RCA) Archive collection which was disbursed by Sarnoff Labs (formerly RCA Labs) a few years ago. They showed artifacts from RCA's computer history, including COSMAC items. Laptop showing Web site, digitized artifacts. TCNJ Sarnoff Collection's museum director Emily Croll (photo right) and Dr. Ben Gross (left) were on site. I discuss the Sarnoff Collection and it's relation to the RCA COSMAC 1802 microprocessor on my Web pages about that processor. Photo is courtesy of ACGNJ and John Raff.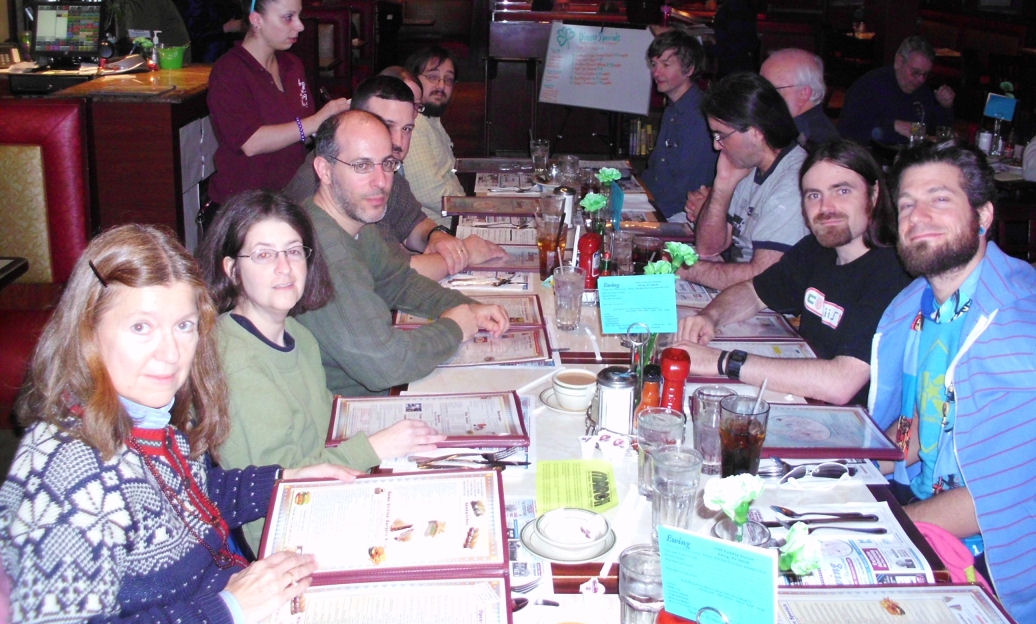 Dinner afterwards at Ewing Diner.

Herb's rejected exhibit items
After some initial interest (by MARCH or myself), some suggested items were not shown. There was limited space, and these items were not working - two good reasons (grumble). One of them, a Motorola 6800 D2 Evaluation Kit I got running a week later! [And sold months later.] Another month later, I got the ADM-3A with "bad characters" working, just needed some better RAM chips. More about such terminals is on another Web page.
Ironically, a Phily news Web site has a video slide show of the first TCF. Several of the computers shown there, were shown by MARCH at the TCF in 2013. The two I also wanted to bring - Trenton Computer Labs TDL "Xitan", "the digital group" - were on exhibit then. I could not bring them "now" because of a MARCH "no work - no show" policy. ...and because space was limited. - Herb

Wadda think?
I asked the MARCH exhibitors to respond to these two questions: "What were the five most common questions or comments of those who looked at your exhibit?" and "What was the most UNEXPECTED comment or question?" I edited the responses and they are in this text file as linked.
Those interested in discussions before and after TCF'13 among MARCH participants, can see our email list discussions at the Yahoo! MARCH mail list Web site.
Related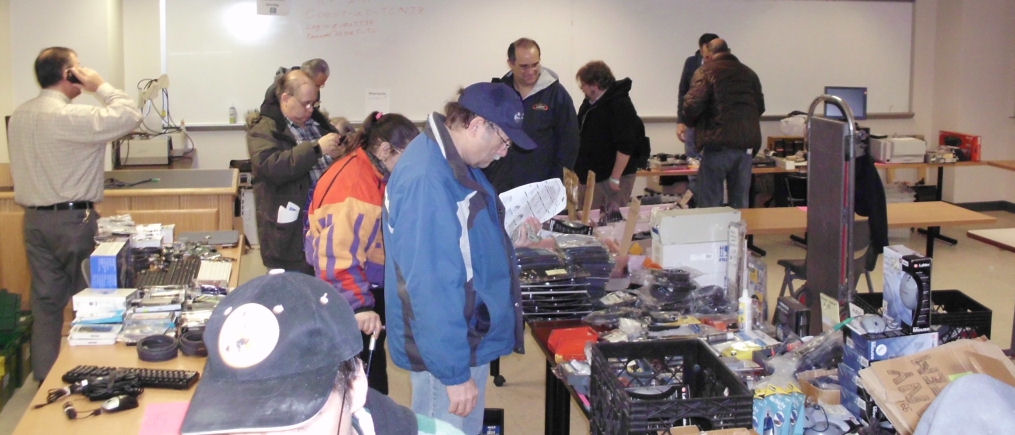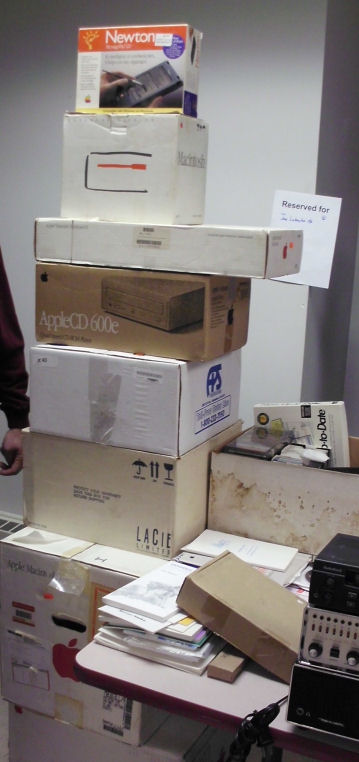 Vendors: Hamfest-type vendors with new/used computer stuff, some industrial stuff, parts and assemblies. guy with several Tek, HP oscilloscopes. a few pure-parts dealers. guy who sells Arduino, BASIC stamp kits and etc. Mac vendor someone with a stack of boxed Mac IIsi system - IIsi, RGB 12" monitor, CD600, harddrive. It did not sell at the event, and I saw the same "stack" at a hamfest some time later.
Web links to more TCF'13-MARCH
Bill Degnan's photos.
pdp8.net, David Gesswein's PDP-8 site

A photo of me and of the Sarnoff Collection exhibit are courtesy of and permission from photographer John Raff, and made available via the ACGNJ Web site's photos of TCF 2013. Amateur Computer Group of New Jersey is a computer user group (club) based in Scotch Plains, NJ. They are "the oldest continuously running computer club in the USA" started in 1975, and a long partner in operating TCF.
---