Ampro "Little Board"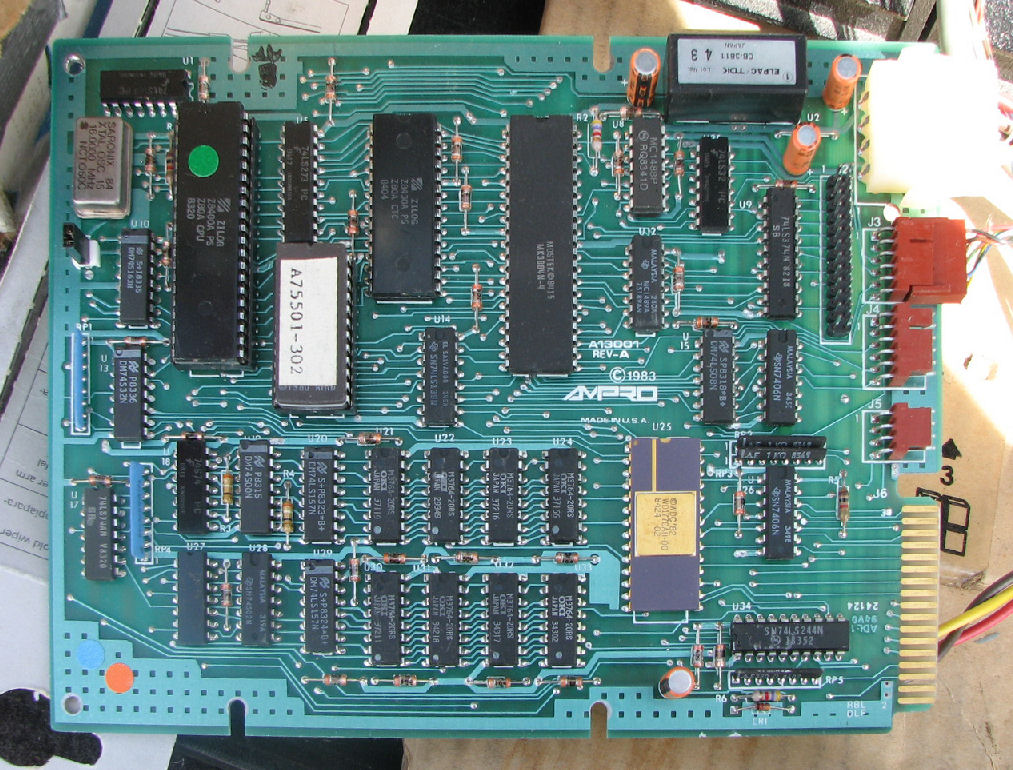 I obtained an Ampro Little Board Z80 system card, and built a dual floppy system around it. This page is preliminary, a work in progress. Most recent revision date Oct 3 2010, a Web link Jan 7 2013. Authored by Herb Johnson. This is one of a number of vintage computer restorations I've done.
Ampro "Little Board"
Late March 2010, I went to the Greater Baltimore Hamboree & Computerfest, commonly called "Timonium" after the local town. At the outdoor fleamarket near the end of the first day, I obtained an old ISC brand (Intelligent Systems Corporation) Intecolor S-100 system, built inside a color TV monitor. But inside that monitor was also an Ampro Z80 single-board computer called the "Little Board". This product was a kind of response to the "Big Board" Z80 computers of the era, board which were the same area as an 8-inch floppy drive. The Little Board fits under a 5.25-inch floppy drive. (Note: a modern Ampro "Little Board" is a Pentium class embedded computer.)
Ampro Incorporated has the additional distinction of producing the first "PC-104" embedded PC-compatible systems, and standardizing a stacking interconnection scheme which was bus-compatible with the PCI bus standard. Ampro still produces embedded PC products in the 21st century; it appears however the name "Ampro" may have been bought by another company.
My board
Ampro Little Board
A13001 rev A 1983
ROM is A75501-302
The floppy controller chip is a Western Digital 1770AH; there's a Mostek SIO dual serial chip and Zilog CTC counter/timer chip. There's also a parallel port using an LS744 chip and some additional logic. 64K of memory consists of eight 64K X 1 DRAMs. There's also what I believe is a clock chip in an Elpac- TDK CB-3811 package.A later model of this board included a SCSI controller chip and SCSI interface, not on this board.
Software assistance to me
Thanks to Gene Buckle of retroarchive.org. He personally updated his site's collection of Ampro software to include disk images.
Also thanks to Hal Bower and his B/P BIOS work. He has Ampro files for B/P BIOS, Z/CPR and ZsDOS, and will upload them to his site in the near future.
Thanks to Dave Dunfield's disk imaging utilites and archive on the classiccmp.org archive Web site.
Photos
Here's the Ampro as I got it, inside the monitor.
A look at the board itself.
The diskettes were created using Dave Dunfield's IMD utility.
Here's my setup for my first boot with the new diskette.
The board, installed inside a former SCSI drive case, with two 360K 5.25" drives.
Screen showing directories of both drives and boot message.

Other Web links
There are many Z80 microcomputer supporting Web sites, and many Web sites for Z80-based operating systems including CP/M and derivatives. Search those sites for Ampro software and hardware documents and related products.
retroarchive.org has some Ampro manuals.Also check their CP/M CD-ROM files (the "Walnut Creek CP/M CD-ROM") for Ampro related software. Other Web sites have that CD-ROM file set as well.
The "armory" Web site has some Ampro info including images of Ampro ROMs.
In Sept 2010, I was contacted by Larry Kraemer who successfully replaced 5.25-inch drives with 3.5" TEAC FD-235 Drives.. He gave me a fair amount of documentation, but here's the PDF of how he adapted 3.5" drives to a TRS-80 and a Ampro Little Board Z80 system. Contact me for more docs or to contact Larry. - Herb
---
contact the author via email links at this Web page.
Copyright © 2013 Herb Johnson