Herb's VME Cards and Docs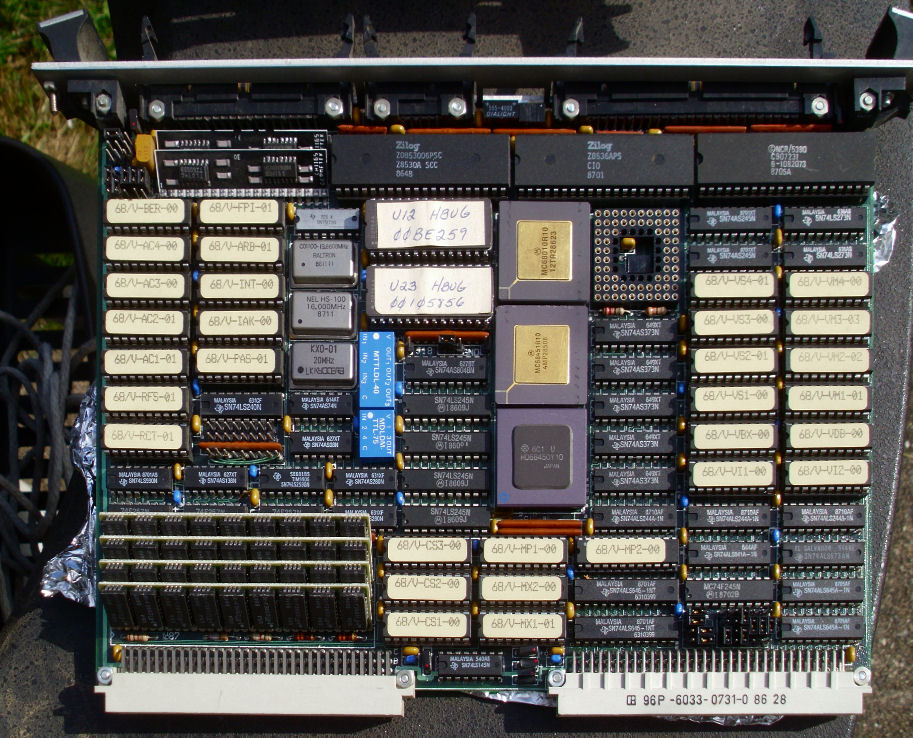 This Web page last updated May 9 2018.
I have a number of VMEbus cards and chassis. For my convenience, the VMEbus cards listed here are are organized by box. I have some VME card cages and chassis on another Web page. Two VMEbus systems are listed here.
For more info about these and other cards go to my home page for Multibus, VMEbus, and STDbus cards. To contact me go to my ordering page.

VME cards
We have a few Heurikon HK68/V 10 MVME 68010 cards. Chips include 68010R10 CPU, 68451R10 MMU, (Hitachi) HD68450Y10 (4 channel DMA), NCR 5380 SCSI, Zilog Z8536APS CIO (counter/timer/parallel), Zilog Z8530A (serial) SCC. There is a socket which is likely for the 68K math coprocessor. There are four banks of MT1259EJ-10 chips (9 per bank) on 30-pin soldered in SIMMS which are 256KX1 DRAMS. So this has 1MB of RAM. there are also two ROMS labled 68/V or HBUG. The many PALS on the card are labled 68/V (something).
Loose
Xycom? VMEbus extender boards, two cards. Single width, very long.
Box 5
Motorola MVME320a-1 1985, CPU board, BA52592, VME 320 ROMS
Motorola MVME 350, BA52550 01-W3362B01 rev M. 68010 CPU, 68230
Motorola MVME 204-2 01-W3418B02 refv C s/n A19681, with daughter card 84-W8?24B01
Plessey pme scsi-1 card, 2 available.

box 6
Heurikon 68010 card, scsi fpi serial ports. 68/V hbug roms
Mizar vme8000 reset, single-width
Mizar vme8500 digital i/o 50 pin, single-width
Mizar vme 8210 512k ram
Storage Concepts, two cards, cdi-1285003, 500160 501160, 60 pin on front
Box 8
Motorola MVME 110-1, 68000P8 CPU, 3 available. 01-w3047b01 BA53598 BA54108
Motorola MVMD 105, two cards, 68010P10 CPU, ROM, RAM, serial, parallel 505-7600761-001
Xycom box 1
Xycom dio xvme-240, four cards, 70240-001 frev 1.1 dual width
Micro Memory Inc mm-6300
Plessey pme scsi-1, two cards
four Dawn VME J1 terminators (left), vmexbtj1 06-300044
four Dawn VME j2 terminators (right), vmexbtj2 06-300047

Xycom box 2
Motorola MVME 400, 3 cards, 2-db25 84-w8432b01
Storage Concepts, two cards, cdi-1285003, 60 pin on front
xycom box 3
Xycom xvme 500/2, 3 cards, 70500-002 frev 1.1 bb adc574a one width

heurikon box
Motorola MVME 204-2 RAM, 1985 84-w8418801 rev b, daughter 84-w8242b01
Plessey pme 2ep ram, 3 cards
Central Data cd23/3608, 6 serial portsBR>
Motorola box
Mizar xvme-085 proto board, 1 unused 1 used, dual width
Xycom DIO XVME-482/2 70428-002 8 channel Asynchronous Serial Communication Module

Imaging Technology system
Imaging Technology series 151 image processor in a VME chassis with four cards in it by Imaging Technology: ALU, FB, ADI and an interface card with 50 and 60 pin flat cables from it. The interface card is PTI-124-000301. The ALU card is ALU 150-v Rev A, the FB Frame Buffer is FB 150-V rev A. Chassis with cards and cables weighs 40 lbs. Ask for photos of the chassis, PTI card, ALU and FB cards.
A customer in 2010 asked me for an Imaging Technology system with DP-150 and VSI-150 Display Processor boards (also VMEbus). If you have these available, contact me.
Heurikon system - Heurikon 12 slot cage w/power
Dim photo of Heurikon rack-mount system
Heurikon 68010 card, scsi fpi serial ports.
Micro Memory Inc. mm-6300
MCT 6020
Central Data cd23/3608 6 serial ports (also one in Hurikon box)
unknown card
Interphase v/smd3200
Plessey pme scsi-1
5.25" floppy drive, some kind parallel/SCSI adapter
hard drive probably in chassis

VME manuals
Interphase corp. V/SCSI 4210 Jaguar Dual SCSI Host Adapter
   update 40 pgs, 100 pages manual

Mizar MZ186 CPU module, rev a, #4425138, 1987, 30 pgs

Mizar VME8400 Floppy disk controller Board manual, revision 1.1 
board revision B June 1983, copy, w/schematics. about 25 pgs.

Motorola MVME400 Dual serial port module user manual, w/addendum,
  1983 & 1985, 68 pgs

Motorola NEC uPD7201 Multiprotocol serial comm. controller Tech
  manual, 1983, 118 pgs
 
Plessey PMESCSI-1 Interface manual jan 1987 70 pgs

Xycom XVME-090 VMEbus extender board 1980 #74090 14 pgs
Xycom #74085 XVME-085 Prototyping module 1984 w/Jan 1985 update
  50 pgs
Xycom XVME-200 Digital I/O module #74200 Jan 1986 44 pgs
Xycom XVME-500 Analog input module #74500 1986 80 pgs 
Xycom XVME-240 digital I/O module #74240 w/update, 1985, 80 pgs

Storage Concepts VME21 host adapter users guide rev 1.0 Apr 1985 110 pgs
Storage Concepts Concept 21 product description rev 1.0 Aug 84 10 pgs
Storage Concepts MicroVMS Device driver for QB21 host adapter ver 1.2 mar 1986 20 pgs

Solflower Computer SFVME series users manual & install guide
   rev 1.1 mar 1991 54 pgs

Micro memory Inc MM6260D user's guide May 1989 32 pg
 - use information, signal timing, no schematics

Micro Memory Inc MM6260D List of Materials Jan 1989, 6 pgs
- component list

Micro memory Inc MM6300D Users guide Jan 1987

---
For general terms of ordering, sales and payment, and to EMAIL @ me, check my ordering Web page. But terms on this page, and with my quote to you, superceed the terms on my ordering page as it so notes.
Contact information:
Herb Johnson
New Jersey, USA
To email @ me, see see my ordering Web page.
Copyright © 2018 Herb Johnson