Card racks, cases, chassis
---
Last updated Aug 15 2020. This Web page has card racks, cases, chassis for S-100, VME, STDbus and other kinds of digital circuit cards. To see some of those cards, Check my home page for VMEbus, Multibus and STDbus cards; or for my specialty, check my S-100 Web home page. This Web page last updated Jan 18 2013. To email me or to order, see see my ordering Web page for my email addresses.
the items
STDbus chassis, cases
Most of my STDbus card cages, backplanes, power supplies are on this linked Web page. There's some duplicates also shown here.
"embedded PC" cabinets
In the 1990's it was popular to put PC motherboards in rack-mountable cabinets and use them for industrial control. Here's two such chassis:
Relisys branded PC computer chassis, AT type power supply
rack rails mounted either side
only one handle and angle-iron on frontsee other side
30 pounds, 21 X 17 X 7
with 14 X 12 inch cage for PC cards over motherboard
two DC power connectors to m/b, A/C switch on front
PC computer chassis, 386/486 type power supply
2 X ?? motherboard Dc power connector
Pair of handles and angle-irons for rack-mount
25 pounds, 18 X 17 X 7
space for motherboard is 14 X 13
9 inch space in front of m/b for long cards slots.

S-100 chassis and cases
I show "sold" cabinets as examples. I'll add cabinets for sale when available. Also, some chassis and cabinets might be adapted for S-100 use.
*SOLD* This is a S-100 backplane used for non-S100 work. 20 pounds weight. 17-1/2" wide but mountable in 19" rack. 9" tall case, 17" deep. 18 slot motherboard in there, four modular regulated power supplies delivering +5, +5, +16, -16. There's no top but that's just an aluminum plate. *SOLD*
*SOLD* A brown cabinet, flat cover, with S-100 bus and power supply 12-slot card cage, open power supply, cabling for serial S-100 boards. (S-100 boards not included.)here's a better view. 37 pounds weight, 16" wide by 19" deep by 10" high. *SOLD*
*SOLD* An aluminum cabinet and cover, S-100 bus and power supply. With 18 slot Morrow terminated motherboard; the end slot is outside the case to support an IMSAI like front panel card (not included of course). Very impressive, industrial looking case. 33 pounds weight, 18" wide by 21" deep by 8" tall.
Also see my list of S-100 items for sale for more backplanes AKA motherboards.
card bus connectors, Euro DIN style 96 pin

lightly used, Euro DIN 41612 / EN60603 type, several dollars US per connector
wire-wrap female buss connectors 3 X 32 format
Connector about 3-1/4" long X 5/8" wide female
3-3/4" connector end to end
These APPEAR to be like the hobby "ECB bus" or "Eurocard Bus" or "N8VEM bus" connectors, which is currently documented at the RetroBrew Computers Wiki. They specify a TE Connectivity 5535043-5 or 535090 - a solder pin connector, retail about $5 each. Their bus only uses the outer two rows, not the inner row. I have connectors with all three rows or the two outer rows. My connectors are wirewrap; be sure the .024 X .024 pins will fit any PC board backplane, or use them for manual wirewrap or soldering.
various brands, post lengths, "gold" or tinned. All with the same female connector. These are used pulls, some pins slightly bent. A few pins were actually wirewrapped, many used some kind of press-fit DC buss metal tape. They were removed from hand-wired backplane, and probably date from 1990 or so, so there's slight corrosion from age & use. If they have wirewrap wire, you'll have to unwrap it.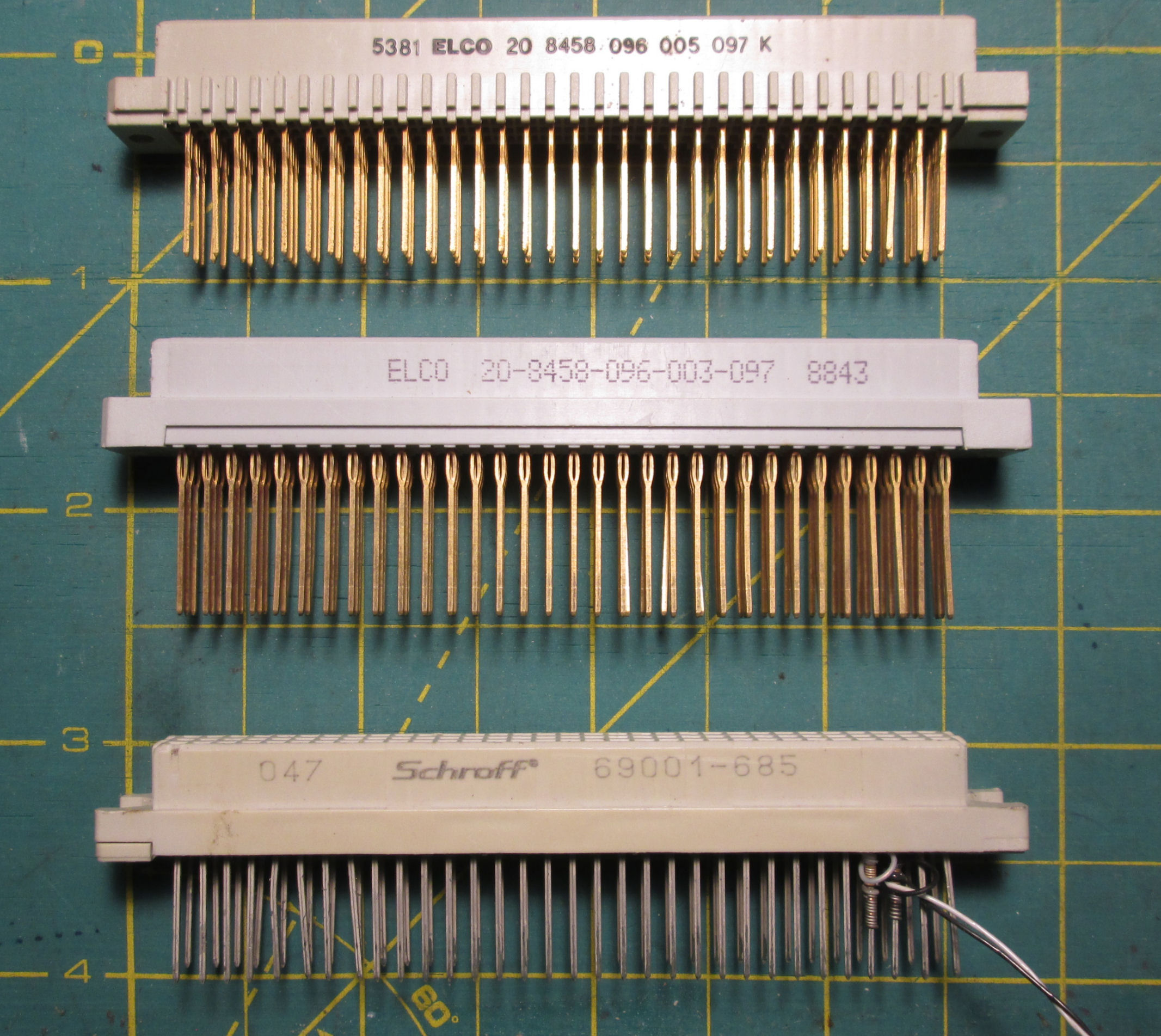 ELCO 20 8458 096 003 097
3 X 32 longer pins "gold" - 24 available
20 = female without keying system
8458 = series
096 = 3 X 32 pins/sockets
003 = contact style
097 = performance class
3 X 32 pins wirewrap "gold" maybe phosphor-bronze?
Wrap Post Dimension 0.024 x 0.024 (0.6 mm x 0.6 mm)
this model pins length 16.2mm straight
ELCO 20 8458 096 005 097
3 X 32 shorter pins "gold" - 7 available
as above but pin length 13.2mm straight
Europac 69001-685 or ** Schroff 69001-679, -685
3 X 32 but center row not populated
tin plated pins length 16.2mm?
a few pins wirewrapped
Several connectors, too many pins bent, available as samples.
Other chassis, cases, racks
Among my 8-inch and 5.25-inch floppy drives, I have some floppy drive cabinets.
small rackmount chassis BSI Industries branded, aluminum; 20 pounds with power supply, 17 X 10 X 9 plus two rack-mount brackets empty space inside ex/ transformer, caps, rectifier. , top panel slides out.
small rackmount chassis, aluminum; mounts to rack by removable pair of angle-irons, 5 pounds, 17 X 13 X 5 empty space inside, top and bottom panels unscrew, mount an internal chassis or board along edges around periphery.
National Instrument Multibus card 604 and 614 4-slot cage/backplanes.Two of these are 604 models with four P1 slots, terminated at one end and with a male Multibus connector at the other. One is the 614 model which replaces the terminator with a FEMALE Multibus connector, so it extends the 604.
Vector brand CCF-13 card cages, will hold STDbus cards, possibly others if user-modified. CCF-13 card cages areequivalent to today's Vector brand CCA13M/90 cage with metal card guides. Check Vector's Web site for description for a catalog description. I have several of the CCA13M/90 cages unused in original shipping boxes. Cage is 5.23" high, 9" deep, and 19" long (rack mount). Cage holds 21 cards in metal slots 3/4" apart. Supports 4.5" x 6.5" circuit boards such as STDbus cards (photo) or classic Vector 3662A6 or 3662-9 with 44 pin edge connectors. Backplane not included. Still in original box as asssembled, box is 6 pounds and 21 X 12 X 9 inches - shipping cost signifigant. If I disassemble the cage, it packs in a box about 6 pounds and 18 X 7 X 6 inches - cheaper shipping. $49 plus shipping each in original box, $59 repacked to save shipping cost.
This photo shows a similar cage, with a horizontal door, for 19-inch rack mounting and about the same dimensions as the Vector cage above. There's 11 slot guides, more could be added. The depth of these guides is comparable to the Vector cage, but the rails are closer to the front of the unit. Two of these used cages are available at $39 each plus shipping.
this VMEbus cage has a 20-slot backplane. The back of the backplane shows how the VMEbus connectors are wired.
this small VMEbus cage has a 7-slot backplane. The view is from the back of the cage to show the backplane.
This is a pair of rack-mountable equipment chassis - one is available. Each weighs 14 lbs, and has a 19" X 9" front plate. the case dimensions are 17" wide 8-1/4" tall and 21-1/2" deep. There's an internal plate 7" X 17" to mount a power supply which has been removed.
this is a fiberglass case.15 pounds, it will mount a 19" wide by 5-1/4" tall plate. Depth is 15".
This Tautron brand chassis held a backplane, which I removed, but still has the power supply. 28 pounds weight. 19" wide for rack mounting, teh case is 9" high and 17-1/2" deep. Card height is about 6". 17" wide in the interior. The depth from front to back plate is about 11-3/4". Inside is a big transformer, four caps, 2 fans, 2 bridge rectifiers.
This VME chassis still has a backplane and switching power supply. At 20 pounds, it's a modular chassis which can be disassembled and readjusted. Sides are 10-1/2" X 13-1/2". Front is 19" wide mount, 17" inside width, 9-1/2" tall by 13-1/2" deep. Switching power supply has ratings 12V/10A, -12V/3A, -5.2V/6A, +12v/3A, +5v/50A.
This is a tall VME card rack with backplan. The back is a hinged plate where the switching supply is mounted.
I have FOUR of these collasped card cages and wrapped up. Weight is 5 pounds. This photo shows the side plate. The five rails are 17" long (that's the width) The side plates are 10-1/2" tall and 9" deep when mounted; the back tabs add 1-1/2".
Here's two VME racks. The TOP rack weighs 5 pounds. It's 19" wide to mount, 16" tall and 17" deep interior. Ther's 7" from front to top back plate, 8-1/2" depth. The BOTTOM rack weighs 10 pounds. 19" wide to mount, 17" interior width. 10-1/2" tall, 7" front to back plate, 8-1/2" depth.
This VME case is Motorola branded. Case holds 19" rack mount chassis. Case is 20" wide X 19" deep X 13" tall. Still has backplane and power supply. I think this case has handles. Didn't pull it out to weigh.
---
Contact information:
Herb Johnson
New Jersey, USA
To email @ me, see
see my ordering Web page.
Copyright © 2020 Herb Johnson