Calcomp 565 plotter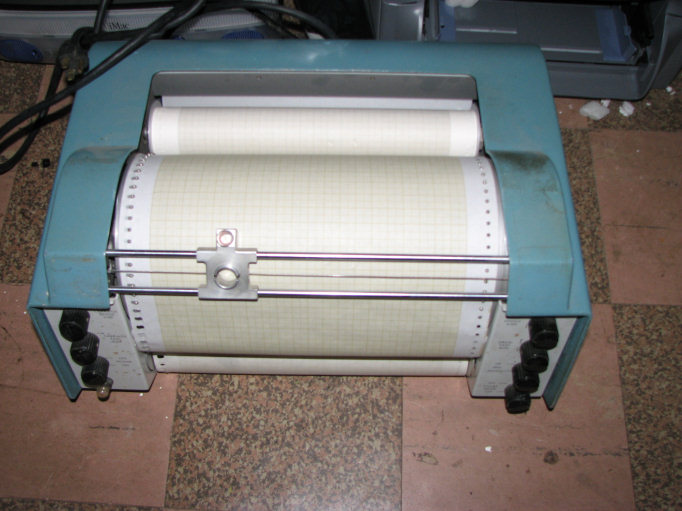 Most recent revision date Sept 23 2012. Authored by Herb Johnson.
Calcomp 565 plotter
The Calcomp drum-based pen plotters are of interest to many vintage computerists, as it was used on many systems of the 1960's and 70's. Stepper motors moved the paper drum in rotation, and the pen mechanism across the pair of rails. A solenoid pushed the pen "up" or "down" to make contact with the paper. Paper was fed from one roll and taken up on another roll. The circuitry is mostly power transistors to drive the various stepper motors.
RESISTORS PDP-8 565 plotter
In 2008 I obtained photos of a pen mechanism, courtesy of the MARCH computing museum at Infoage. They obtained a plotter and PDP8 from the RESISTORS club via Claude Kagan, with a partial pen holder, as shown below. I offered to help them repair their pen mechanism. The RESISTORS wired their "Straight 8" directly to the plotter, bypassing the 19-pin connector.
RESISTORS's Calcomp plotter, rear drive PC board
RESISTORS's Calcomp plotter pen photo #1
RESISTORS's Calcomp plotter pen photo #2
RESISTORS's Calcomp plotter pen photo #3
RESISTORS's Calcomp plotter pen photo #4
Calcomp plotter pen holder, from manual

Repairs to the RESISTORS Calcomp Plotter
Pen parts were provided to me by David Gesswein, to repair the MARCH plotter. David said in Aug 2008, "I have updated my Calcomp plotter page, showing the making of the replacement parts for the MARCH plotter. I have also added videos of the plotter operation." David measured the solenoid (coil) and said it was "67.6 ohms, 157 mH with pen assembled, 27.4mh pen body only.". Later, David noted "Looks like the pen supply is -24V. When [the coil is] active, the pen is UP." Simple math says the drive holding current must be about 350mA. Thank you, David! My notes on the mechanical measurements are below.
The completed parts were given to MARCH in September 2008. In addition, Jeff Jonas later donated to MARCH, his IBM branded version of the same Calcomp plotter.
Here's the RESISTORS Web site and Claude Kagan. They were a computer club of high-school students in the 1960s, Claude Kagan (an AT&T engineer) provided facilities and marginal supervision ;) MARCH has their PDP-8 and its plotter

My 565 plotter
I obtained this plotter in 2007, without a pen mechanism. It powers up and the front controls operate all the features, moving pen and drum as appropriate. Photos of my plotter, with no pen holder, are:
Herb Johnson's Calcomp 565 plotter
Herb Johnson's Calcomp 565 plotter, rear jacks
another photo of the rear connectors, AC cord removed
female AC connector on AC cord. This is a small Hubble brand twist and lock AC connector.
the corresponding male AC jack on the plotter. Note carefully the larger pin provides the "lock".
the male 19-pin jack on the back. The cable has an outer cap that screws on the outer threads shown here. Tom describes this connector as below.
the bayonette fuse cap and the fuse loose in the holder. Note this is a 2A 3AG slow-blow fuse. The fuse as shown has features that delay or "slow" its operation. Use EXACTLY the fuse described, buy it as described.

Documents for the Calcomp plotter
The following are available as PDF's from various Web-based archives:
MAINDEC-X8-DIXYA-A-D, DEC PDP-8 "incremental plotter exerciser" docs, 1972
MAINDEC-X8-D6CC-D, DEC PDP-8 "Calcomp plotter diagnostic" docs, 1969 (Gesswein)
Digital-8-12-U, Incremental plotter subroutine, Digital document, 1966
Instruction manual for the Model 563 (Calcomp), 1969 (from Gesswein)
--includes wiring and signal and mechanical information, no schematics.
see David's Web site for details.
Here's a sketch of the pen parts as measured and drawn by Herb, based on the MARCH parts and David Gesswein's newly built "cap".
Here's a series of photos of the old and new parts.
pen1, assembled restored pen
pen2, new cap and pen, old solenoid
pen3, the new cap
pen4, a ballpoint in a metal shaft
pen5, the old solenoid
pen6, the new cap
when the pen holder coil is active, the pen is UP
plotter Weblinks:
"big brother" model 563, owned by PDP-8 owner David Gesswein. He also has Calcomp documentation, search his site for specifics
David's PDP-8/I at MARCH's VCF-EAST in 2007.
Here's MARCH's Web page (yes, just one).
the IBM 1627 version, used on the IBM 1130 (link courtesy of Jeff Jonas, who had this model; since donated to MARCH)
In October 2009, Jeff Jonas produced this Web page description of a pen set for the plotter.
The Bendix G15 with Bendix PA-3 plotter, link courtesy of Mike Lowen.
Another Bendix plotter, link courtesy of Mike Lowen.
beautiful photos of Calcomp, a German PDP-8 site
Calcomp 565 in Netherlands museum
Calcomp 565 Plotter working - The only video worth watching of a computer peripheral at work.
Tom Mikulic and his Calcomp
Tom Mikulic and pen parts
Tom Mikulic is working on some plotter parts in 2010. He's contacted several of the above owners, and he's investigated sources for various parts. Tom is gathering design specifications of the Calcomp pen mechanism. His Web pages on his Calcomp plotter provides dimensioned drawings and even an animation on the pen mechanism. He's progressing to make a mechanism, with the help of a machinist. Follow his progress on his Web site.
Tom Mikulic and AC connectors
Tom is looking for an AC cable. His plotter has an AC power connector which consists of a female AC jack with two "prongs". It's intended to mate with a AC cable with a 1" diameter plug with a pair of slots to accomodate the jack. Here's the dimensions of the AC jack's components:
pin width: 6.3mm ; 6.4mm [ 0.248"; 0.252"]
pin thickness: 1.59mm; 1.68mm [ 0.063"; 0.066"]
pin length: 15.84mm [ 0.624"]
pin center to pin center: 12.8mm [1/2"]
round body: 25.43mm; 25.64mm [ 1"; 1.009"]
Tom spotted a description on this Web page of pre-NEMA AC connectors, photos #5, 6 and 7.. The cable connector is labled both "15A 124V" and "10A 250V" Tom found a similar chassis AC jack at Surplus Shed in the USA, "General Electric, part number GE4343-5. This is a flush mount 2wire miniature motor base plug...15A, 125V".
My plotter has a similar AC jack but with concave AC pins. Calcomp provided a variety of AC jacks.
19-pin control connector
His notes say the data connector is a "Cannon 19 pin data connector. SK19-21C-1/2. SK19-32SL." The Cannon catalog is at this Web link; I confirmed his identification. The catalog identifies the pins as "16-gauge" contacts; my physical measurements suggest the male pins are just under 1/16 inch diameter. (Tubing which is 1/16" diameter is slightly loose on them.) But the PEI brand connector is over $125 from PEI. .
Tom Mikulic and I compared notes on the Cannon 19-pin connector. Here's are notes about the Cannon 19-pin connector. I'm also working with a tech who is familiar with AMP and similar connectors, who has individual pins for these connectors.
In late 2010, Tom sent me a connector, unused. Photos will follow.
By 2012, Tom said to me in email; "I made an interface for parallel port and run a Turbo Pascal program on an old PC I think from 1990's. Schematic for the interface I got from Dr. E.H. Dooijes. I use 12V AC adapter for that interface which generates pulses for plotter. Timing of the pulses is under software control. I am lucky my son is programmer and he wrote it for me. I realized that there need to be a delay of different duration after each pen-up or pen-down command depending on type of pen. I tweaked that myself and got excellent results.
Now I can draw with plotter using ordinary ball point pens, felt tip pens, space pens (high pressurized pens) or liquid ink pens. I completely recreated a solenoid and 3 assemblies for various pens. Needless to say how proud is a painter who designed engineering parts inside the pen holder which cannot be seen or copied. :).
One of them is actually my design and it can accommodate 3 types of "space" pens of different lengths. Original Calcomp ones (the shortest), Fisher space pens (medium length, contemporary items) and Parker pens (the longest ones, various types, contemporary standard.). That top has a long extrusion to accommodate modern pens and works very well. - tom
Tom is thinking about an Arduino interface in Sept 2012. And he's still looking for an AC connector for his plotter. - Herb
---
contact the author via email links at this Web page.
Copyright © 2012 Herb Johnson