Mac "Crud" - battery corrosion
This document copyright Herbert R. Johnson 2007, update Nov.5 2007.
Price and other information can be found in this notice.
To return to my Mac home page click here.

WARNING!! PROCEDURES IN THIS NOTE COULD LEAD TO DAMAGE OF YOUR COMPUTER. I AM NOT RESPONSIBLE FOR ANY LOSS, INJURY, OR DAMAGE DUE TO USE OF THIS INFORMATION. I DO NOT WARRENT THAT INFORMATION ADVICE OR SUGGESTIONS IN THIS NOTE ARE COMPLETE, ACCURATE OR CORRECT.
Mac "Crud" - battery corrosion
The short story: old Macs have batteries, which "attract" rust and mold. These destroy the circuit boards and eventually cause failures. Sometimes a Mac will work ahwile, and then fail, when power to the rusty circuits "blow" the copper traces. Mold across copper circuits will cause shorts, and also create rust. REMOVE THE BATTERY from any old Mac you are not using.
Here's some visual examples of how batteries, mold, and copper rust work, on a Mac IIcx. The chips pictured below are part of the circuits which are powered by the battery. The battery runs a clock chip and feeds power to a "PRAM" memory. Other chips in the circuit are "logic" associated with these functions. Also, mold may form wherever there is moisture on a surface; circuit boards seem tasty enough for mold. A typical symptom for a IIci or IIcx with such problems: works, but no "sounds". But a through visual inspection of the circuit board in strong light will find corrosion and mold.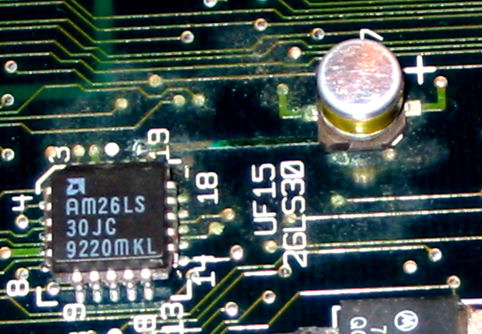 The fuzzy areas around chips is mold. The circuit trace near the number "19" is actually rusty; the feed-through "dot" near the "19" may actually be blown or rusted open.

The chip on the left has dull pins from oxide; the chip on right has bright pins. The rust, oxides of copper or lead or tin, is not a conductor, so some of these pins may no longer be "connected". Also, the mold has some conductivity, so there may be cross-connections between the moldy/rusty pins. Cleaning gets some of the mold and rust, but not UNDER the chips. And if rust has caused a broken circuit, cleaning will not restore the circuit.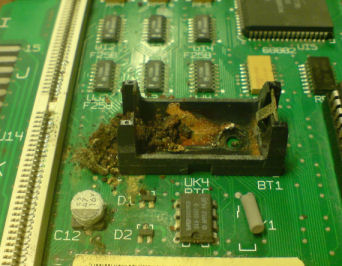 Here's the debris left by a leaky battery around a battery holder of a Mac motherboard. Bits of rusty metal cause shorts; the fluids can also cause shorts and corrode the copper circuit board traces. Corrosion leads to open traces and rusted-out pins on chips.

Repairs?
Repairs are very unlikely to succeed. The problem with repairs is that these boards have multiple layers of copper circuits. If an inner layer is damaged, you can't fix it. You COULD bypass it, but that's very tedious to find such shorts AND you have to have extensive knowledge of the particular board including schematics. Plus, there will be failures later on due to rust not found previously.
But for problems only related to mold, it's possible that a bath and toothbrush scrub in warm water with a VERY LITTLE BIT of liquid detergent, followed by drying with a hot air gun (or hair dryer), MAY fix the problems. There is little to lose but time. Make sure ALL THE WATER is removed, including drops hiding UNDER THE CHIPS.
---
Copyright © 2007 Herb Johnson
Herb Johnson
New Jersey, USA
to email @ me follow this link