Jade S-100 cards
---
This Web page last updated July 16 2009. To see my S-100 home page, follow this link. To email me or to order, see see my ordering Web page for my email addresses.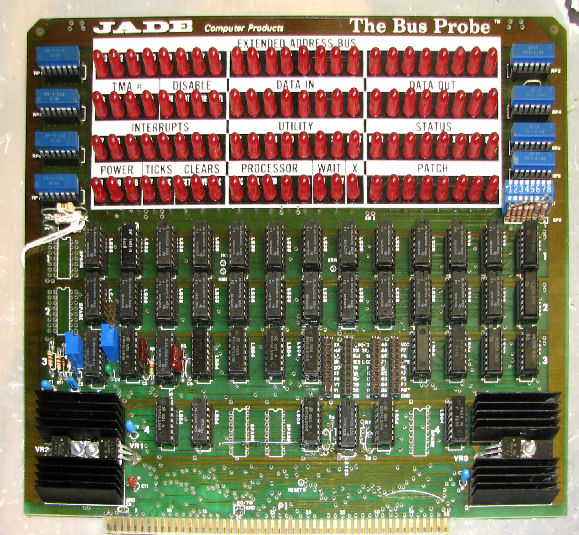 Introduction
Jade Computer Corporation, or Jade Computer Products, was located in Hawthorne or Lawndale in California in the 1980's, and had at least one retail store in that city. They advertized S-100 and other cards and computer products, in most of the microcomputer magazines and at trade shows of the era. One of their more striking boards was "The Bus Board", a super-sized S-100 card with over 100 LED's to show the state of the S-100 bus.
Don Smith founded Jade in 1975 in Torrance CA. Apparently John Leaper "took over" Jade in 1979, renamed it Jade Computer Products, amd expanded it as a computer products reseller. Other computer companies of the period were started by former JADE employees or customers. (From notes taken from "the PC museum Retail Hall of Fame" Web page in July 2009) A photo from the West Coast Computer Faire of 1983 shows the Jade booth, naming locations in Dallas (TX), and San Diego, Santa Ana, Los Angeles, Woodland Hills, and Sunnyvale (all in CA). In 2009, apparently Mr Leaper's Jade Computer Products now does business as tscreens.com, offering display technology from Fountain Valley CA.

Jade S-100 cards
Jade Bus probe, multiple LED display, 50 pages
"The Big Z" (JG Z80 CPU board) * (w/ schematics + monitor), 44 pgs
Double D floppy disk controller, 1980, 50 pgs + 25 pgs on FDC chip
64K RAM card, 12 pgs
JPS-01, serial/parallel/cassette card, 12 pages (copy)
---
Contact information:
Herb Johnson
New Jersey, USA
To email @ me, see
see my ordering Web page.
Copyright © 2009 Herb Johnson