PDP-11/20 Exhibit - DR11C, Paper Tapes
Click here to go back to the virtual exhibit Web page.
Click on the images below to see larger images.
PDP-11 Parallel Interface module DR-11C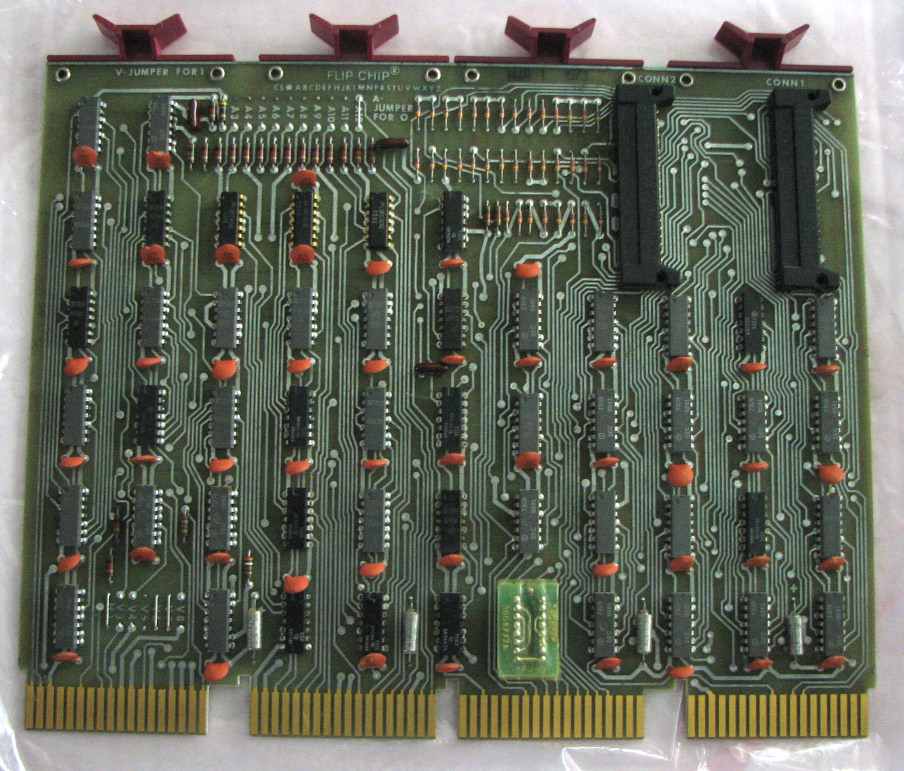 This DEC M7860 module is a Unibus parallel interface card, model DR-11C. It was manufactured early in 1973. This board is on loan to MARCH from David Gesswein.
The Unibus is DEC's standard "bus" for connections and signals between PDP-11 computer boards. It also refers to the common backplane of wired connectors, which each Unibus-compatible board was plugged into. This board has four sets of gold-plated "fingers" for its Unibus connector. "Interface" means that this board was connected to some device to provide data and control. The black connectors on the board are flat-cable connectors to such devices. "Parallel" means that 8 or 16 wires would carry a byte or word of binary data; additional wires carried control and status signals for the Unibus and the device.
Also on the board are many small plastic or ceramic packages with 14 or 16 metal legs. These are integrated circuits or IC's. Each IC contains a silicon chip, and on each chip are transistors and resistors manufactured within the silicon surface. The legs or pins connect to thsoe circuits, the copper traces on the board connect the chips into a digital design. Each chip performs one to several logical operations - OR, NOT, AND - or stores a few "bits" of memory which represent logical states of ONE or ZERO. The general design of these chips is called TTL, or "transistor-transistor logic", a common architecture for "small scale integration" or SSI IC's of the 1970's. Such chips are still used today.
The logic design of this board of 50 chips, is to connect the UniBus to the digital devices cabled to this board, and to represent them in the PDP-11's hardware as a series of memory addresses. The control and data signals become bits in memory at those addresses. Software is written to support the use of particular devices via this card. This general scheme is still in use today in modern computers; many computers have a "bus" where cards with logic are connected to external devices, and operated by software control.
DEC paper tape - binary loader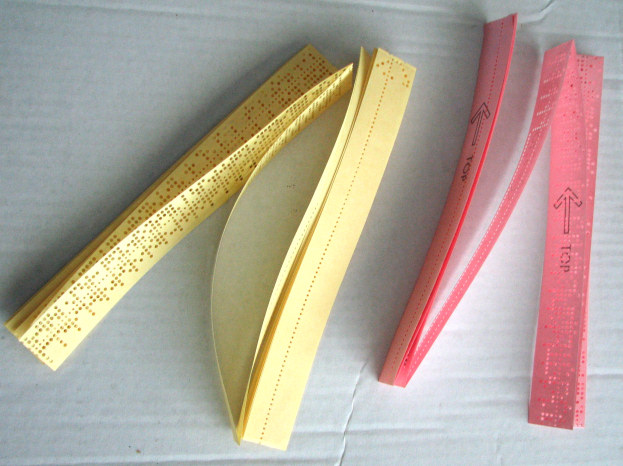 These are copies of an original paper tape, produced by DEC. It contains a "binary loader", a program used to help load other programs from paper tape or other devices. It is punched with holes, 8 holes wide and ten to the inch. Patterns you see in this tape, represent how the data is organized for use with the PDP-8 series of computers. Many computing devices of the 1960's and 70's, and a number of mechanical control and informational devices, used papertape.
The original DEC paper tape is on loan to MARCH from David Gesswein; copies in pink and yellow are for the public to handle and need not be returned.
---
---
PDP-11/20 exhibit developed for MARCH by Herb Johnson. Updated Aug 13 2008.